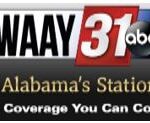 Website WAAY - TV
Coverage You Can Count On
Description:
WAAY-TV, Alabama's Television Station of the Year, is looking for a true team player and leader to join our dynamic staff in a position that hasn't been available in 22-years.  This rare opening is for the position of Business Manager.  This is a Department Head position. The qualified candidate will be responsible for leading all financial activities of WAAY-TV and will work with Department Heads with assistance available from corporate accounting to achieve expense and revenue performance goals including closing books monthly, quarterly and yearly.
Duties include oversight of accounts receivable and payable, daily/weekly cash posting and reporting, generating revenue and expense journal entries, calculating sales commissions, maintaining prepaid expenses and accruals, reclassing entries, balancing GL accounts, budgeting, filing property taxes, monthly and quarterly sales/use tax filings, auditor requests and other duties as requested.  Position handles EEO efforts and files required reports to the FCC.  Basic HR duties and payroll, supply purchasing, vendor relationships are examples of other related duties.
Bachelor's Degree in Accounting or Finance with experience in accounting is required, though extensive experience will be considered.  Candidate should have excellent written and verbal communication skills and be part of a culture rooted in dedication to being the best.  The Business Manager will be an integral part of a team that leads all aspects of WAAY-TV.  The ability to occupy a key leadership position of responsibility as part of a cohesive team is necessary. A history of being a true team player with a great attitude and impressive communication skills is a plus, and if you have common sense, a sense of humor and a servant's heart, you fit this evolving culture and will move to the front of the line.
Personally, you should be efficient, highly motivated, detail-oriented, organized and deadline driven.  Adequate computer skills are necessary to use preferred accounting software and methods.  Experience with ADP, OSI, WideOrbit and GP is preferred.
This is a full-time position during regular business hours with the potential of extra time required to meet monthly deadlines and to fulfill obligations to critical projects.  Compensation is based on experience.  Benefit package eligible.
Must be fully vaccinated against Covid-19 (subject to any medical or religious accommodations or other applicable law).  A pre-employment drug screen and background check are required.  Cover letter, resume, and references should be submitted to:
jobs@waaytv.com
or
WAAY-TV
Business Manager
1000 Monte Sano Blvd
Huntsville, AL 35801
EQUAL OPPORTUNITY EMPLOYER
Responsibilities:
Requirements:
Contact:
Submit cover letter, resume and references to jobs@waaytv.com
You must sign in to apply for this position.
---