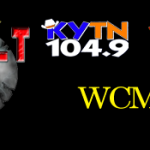 Website thunderboltinfo Thunderbolt Broadcasting
Description:
KYTN FM, WQAK FM, WCMT AM, WCDZ FM, WCMT FM    JOB OPENING:  SALES Thunderbolt Broadcasting has a full time Marketing (sales) position open.  The best candidates for this position should have an outgoing personality, friendly smile, must be motivated, be able to manage time and have a high work ethic.  Must be good with planning and re-cap activities.  This position also includes calling on local & regional customers face to face, attending community events, working with our digital department, on air department, production department. Benefits include salary plus commission, gas, health insurance and other benefits including working with a team of people who love what they do and know how to do it.  Beginners are encouraged to apply for this marketing (sales) position. Thunderbolt trains our marketing representatives to succeed.  This person will report directly to the manager.
Responsibilities:
See customers face to face, develop marketing plans, write copy, write and turn in contracts and production orders.
Requirements:
Time Management skills, transportation, computer skills, ability to work well with others
Contact:
Paul Tinkle

email your resume to jobs@wcmt.com

You must sign in to apply for this position.
---