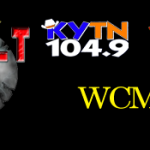 Description:
On-Air and production work.  You will be recording commercials, overseeing the entire production department, voice tracking and will have live on-air work.
Responsibilities:
Overseeing the production department, voice tracking, recording commercials or working with our customers' recordings.  Working with other departments and working with our community events.
Requirements:
Must be an early riser.  On air experience required.  Must be neat and organized and be able to work with other departments and sales team.  Must have computer skills.
Contact:
Paul Tinkle

Send your resume to jobs@wcmt.com

You must sign in to apply for this position.
---