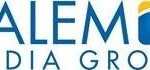 Website Salem Media Group
Description:
Salem Media Group Colorado Springs is seeking a talented individual to serve as an Account Executive. Our Christian Contemporary Music, Christian Teaching and Talk stations have a wonderful opportunity for someone who loves sales/marketing.
The duties of the Account Executive include, but are not limited to:
Network with the local business community and build relationships with Colorado Springs area businesses to grow their businesses via radio + digital.
Solicit businesses for the purpose of selling them a platform to expand their reach. We help grow businesses using radio advertising, programs and digital marketing.
Solicit businesses to support The Word 100.7 FM, at local ministry events such as our Pastor Appreciation Luncheon, the Pastors' Masters and other ministry events we create or with which we affiliate.
Salem Media Group is an equal opportunity employer.
To apply: Go to salemmedia.com and look for the careers tab.
Responsibilities:
Achieve station revenue goals through local commercials, local programs, digital marketing and above mentioned promotional opportunities. This is a full-time position, complete with paid holidays, 401k and health benefits. Compensation is based on experience (salary + commission).
Requirements:
A sales background is necessary.
Contact:
Chris Gould

To apply: Go to salemmedia.com and look for the careers tab.

You must sign in to apply for this position.
---